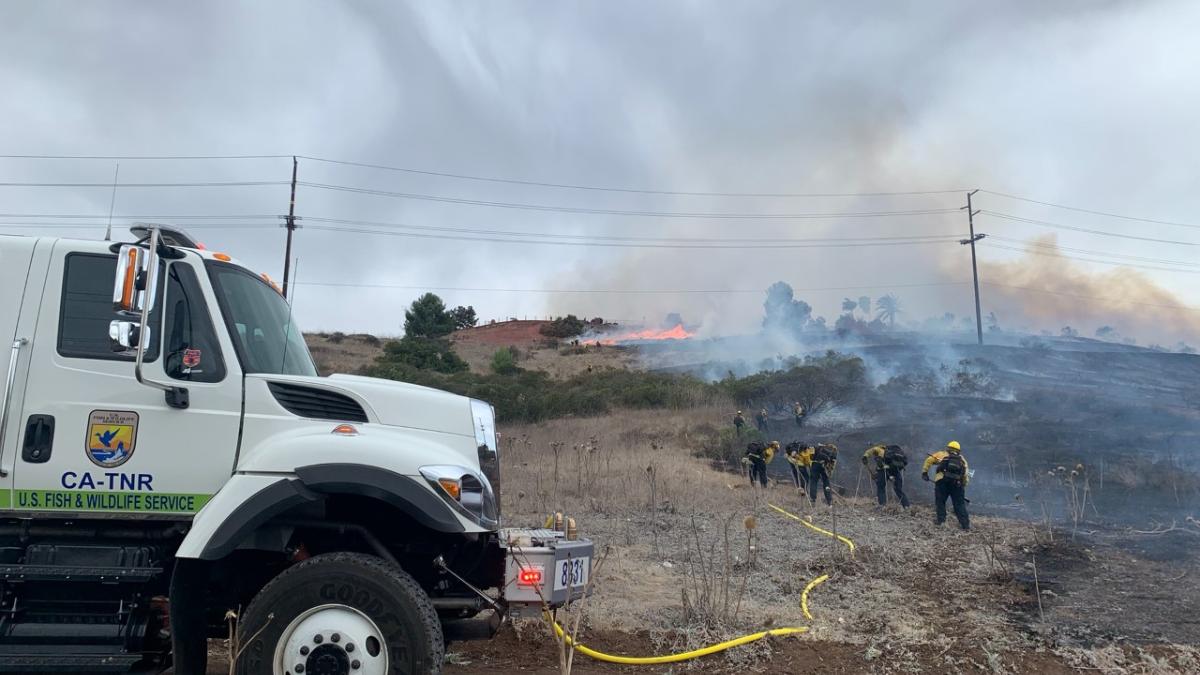 This position is available in the following series:
Position Overview
Are you looking for a challenging career that can affect the lives of thousands of people, animals, and our natural habitat? As a Fire Management Officer you have a deep impact on the this countries environment and ecosystem, by directing all phases of the fire management program. With you providing leadership, coordination, and direction, for the administration of the fire suppression, detection and prevention programs, you are keeping our citizens safer, our forests healthier and creating a better environment for future generations.   
This position is represented at the following bureaus
---
Candidate Description
The ideal candidate has prior firefighting experience, with knowledge of accepted wildfire safety practices and comprehensive knowledge of the latest technological advances in fire management sufficient to evaluate their applicability to specific situations. 
Work Environment
Most work is performed in an office setting. Field work is sometimes performed in steep terrain where surfaces may be uneven, rocky, or covered with thick vegetation. Temperatures are frequently extreme, both from weather and fire conditions where the presence of smoke and/or dust conditions are frequently severe. The hazardous nature of fire suppression work requires that protective clothing (boots, hard hats, etc.) be worn during emergencies. The incumbent must exercise a variety of safety practices and precautions for their own and others' well-being. 
Minimum Education Requirements
Career Level Requirements
Responsibilities by Level
Mid:

Serves on various interagency committees, teams and work groups dealing with specific local or geographic issues.
Finds ways to improve production and increase the quality of the work directed; and develops performance standards.
Coordinates within the unit to ensure timeliness, form, procedure, accuracy, quality and quantity standards are met.

Journey:

Ensures that all phases of fire management planning are completed
Directs all phases of the fire management program and is responsible for its planning, program direction, coordination and evaluation.
Click to read more
Accountability

Holds self and others accountable for measurable high-quality, timely, and cost-effective results. Determines objectives, sets priorities, and delegates work. Accepts responsibility for mistakes. Complies with established control systems and rules.

Show Tool Tip

Mid 11

Journey 12

Attention to Detail

Is thorough when performing work and conscientious about attending to detail.

Show Tool Tip

Mid 11

Journey 12

Compliance

Knowledge of procedures for assessing, evaluating, and monitoring programs or projects for compliance with Federal laws, regulations, and guidance.

Show Tool Tip

Mid 11

Journey 12

Creative Thinking

Uses imagination to develop new insights into situations and applies innovative solutions to problems; designs new methods where established methods and procedures are inapplicable or are unavailable.

Show Tool Tip

Mid 11

Journey 12

Customer Service

Works with clients and customers (that is, any individuals who use or receive the services or products that your work unit produces, including the general public, individuals who work in the agency, other agencies, or organizations outside the Government) to assess their needs, provide information or assistance, resolve their problems, or satisfy their expectations; knows about available products and services; is committed to providing quality products and services.

Show Tool Tip

Mid 11

Journey 12

Flexibility

Is open to change and new information; adapts behavior or work methods in response to new information, changing conditions, or unexpected obstacles; effectively deals with ambiguity.

Show Tool Tip

Mid 11

Journey 12

Influencing/Negotiating

Persuades others to accept recommendations, cooperate, or change their behavior; works with others towards an agreement; negotiates to find mutually acceptable solutions.

Show Tool Tip

Mid 11

Journey 12

Integrity/Honesty

Contributes to maintaining the integrity of the organization; displays high standards of ethical conduct and understands the impact of violating these standards on an organization, self, and others; is trustworthy.

Show Tool Tip

Mid 11

Journey 12

Interpersonal Skills

Treats others with courtesy, sensitivity, and respect. Considers and responds appropriately to the needs and feelings of different people in different situations.

Show Tool Tip

Mid 11

Journey 12

Oral Communication

Expresses information (for example, ideas or facts) to individuals or groups effectively, taking into account the audience and nature of the information (for example, technical, sensitive, controversial); makes clear and convincing oral presentations; listens to others, attends to nonverbal cues, and responds appropriately.

Show Tool Tip

Mid 11

Journey 12

Organizational Awareness

Knows the organization's mission and functions, and how its social, political, and technological systems work and operates effectively within them; this includes the programs, policies, procedures, rules, and regulations of the organization.

Show Tool Tip

Mid 11

Journey 12

Partnering

Develops networks and builds alliances; collaborates across boundaries to build strategic relationships and achieve common goals.

Show Tool Tip

Mid 11

Journey 12

Problem Solving

Identifies problems; determines accuracy and relevance of information; uses sound judgment to generate and evaluate alternatives, and to make recommendations.

Show Tool Tip

Mid 11

Journey 12

Project Management

Knowledge of the principles, methods, or tools for developing, scheduling, coordinating, and managing projects and resources, including monitoring and inspecting costs, work, and contractor performance.

Show Tool Tip

Mid 11

Journey 12

Reasoning

Identifies rules, principles, or relationships that explain facts, data, or other information; analyzes information and makes correct inferences or draws accurate conclusions.

Show Tool Tip

Mid 11

Journey 12

Teamwork

Encourages and facilitates cooperation, pride, trust, and group identity; fosters commitment and team spirit; works with others to achieve goals.

Show Tool Tip

Mid 11

Journey 12

Technical Competence

Uses knowledge that is acquired through formal training or extensive on-the-job experience to perform one's job; works with, understands, and evaluates technical information related to the job; advises others on technical issues.

Show Tool Tip

Mid 11

Journey 12

Writing

Recognizes or uses correct English grammar, punctuation, and spelling; communicates information (for example, facts, ideas, or messages) in a succinct and organized manner; produces written information, which may include technical material, that is appropriate for the intended audience.

Show Tool Tip

Mid 11

Journey 12