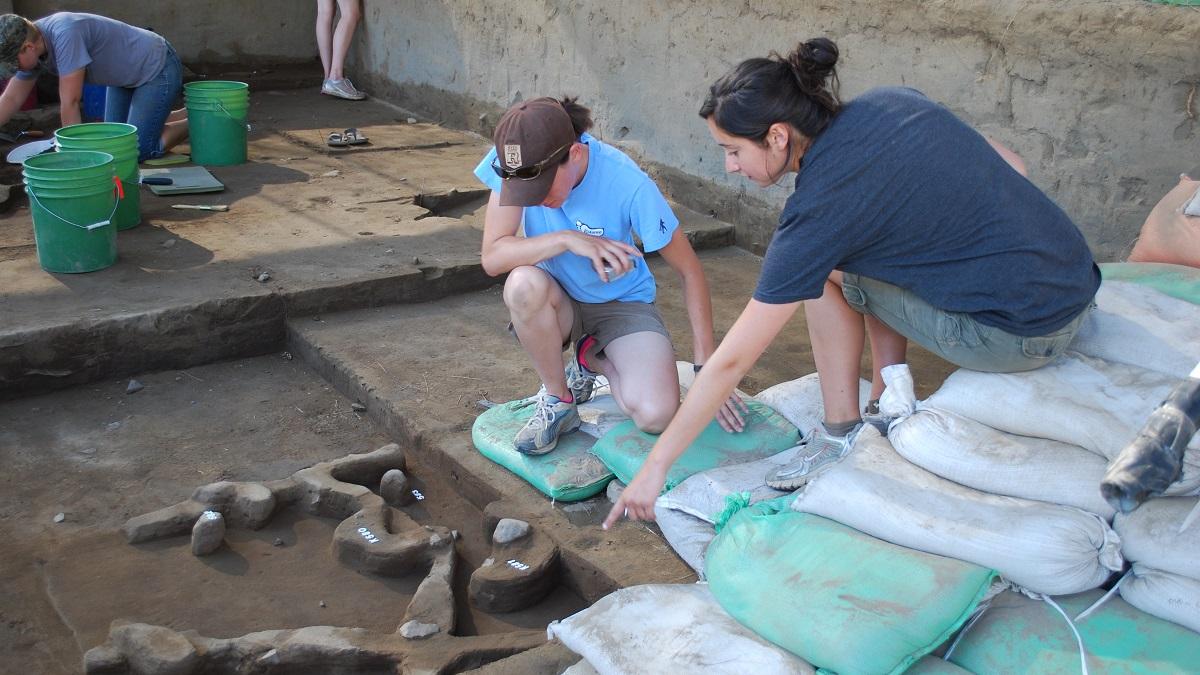 Position Overview
The lands managed and protected by DOI include archaeological sites that contain material data about the past and represent places where important people and events took place.  Archeologists study the tangible remains of these people and events, including architectural remains, features, and artifacts found in surveys, during excavation, or underwater.
This position is represented at the following bureaus
---
Candidate Description
The ideal candidate is a decisive, resourceful critical thinker. She or he can leverage a deep understanding of historical events and human society and apply preservation and archival techniques to manage, preserve and protect important artifacts and sites.  The ability to communicate with many different stakeholders and gain trust in sometimes contentious situations is a must.
Specialty Areas
Precontact, Maritime, Historical, Indigenous, Conservation
Work Environment
Archeologists perform their work in offices but are also often in the field, often working in remote areas.
Minimum Education Requirements
Career Level Requirements
Responsibilities by Level
Entry:

Assisting in surveying, testing, and excavation at identified sites
Assisting in surveying for new sites using global positioning system (GPS) or geospatial information systems (GIS)
Providing information on cultural resources to state, local or tribal government representatives and the public
Conducting educational sessions on heritage resources at school or community events
Maintaining archeological inventories which aid in monitoring the impact of development on cultural resources

Mid:

Curating artifacts from public lands and drafting supporting documentation; Interpreting marine geophysical survey data
Writing research proposals or scopes of work for contractors
Designing mitigation strategies
Reviewing eligibility of heritage resources for potential inclusion in the national register; Determining if heritage resources meet the definition of an archaeological resource.
Developing archaeological resource input for environmental assessments and reports

Journey:

Developing heritage resources portions of major planning documents such as environmental impact statements
Advising on complex collections management or repatriation issues within a specific state or region
Leading interdisciplinary project teams working to address complex problems related to historic preservation
Developing and delivering training on heritage resources management; Publishing reports and present at professional conferences
Serving as the expert for cultural resource management, historic preservation, archaeological resource protection, heritage assets, and Indian sacred sites, tribal consultation; Serving as the Chief Scientist or technical representative for major studies projects involving archaeology

Senior:

Advising on policy and program development and ensuring that long-range planning addresses archaeological issues and concerns
Serving as a branch chief, Federal Preservation Officer, or other position requiring similar level of leadership responsibility in resource management
Providing technical leadership and guidance to internal or Inter-agency teams of senior scientists
Publishing notices in the Federal Register
Providing agency wide training in applied cultural resource management law
Click to read more
Accountability

Holds self and others accountable for measurable high-quality, timely, and cost-effective results. Determines objectives, sets priorities, and delegates work. Accepts responsibility for mistakes. Complies with established control systems and rules.

Show Tool Tip

Entry 5-7

Mid 9-11

Journey 12-13

Senior 14-15

Attention to Detail

Is thorough when performing work and conscientious about attending to detail.

Show Tool Tip

Entry 5-7

Mid 9-11

Journey 12-13

Senior 14-15

Compliance

Knowledge of procedures for assessing, evaluating, and monitoring programs or projects for compliance with Federal laws, regulations, and guidance.

Show Tool Tip

Entry 5-7

Mid 9-11

Journey 12-13

Senior 14-15

Customer Service

Works with clients and customers (that is, any individuals who use or receive the services or products that your work unit produces, including the general public, individuals who work in the agency, other agencies, or organizations outside the Government) to assess their needs, provide information or assistance, resolve their problems, or satisfy their expectations; knows about available products and services; is committed to providing quality products and services.

Show Tool Tip

Entry 5-7

Mid 9-11

Journey 12-13

Senior 14-15

Decision Making

Makes sound, well-informed, and objective decisions; perceives the impact and implications of decisions; commits to action, even in uncertain situations, to accomplish organizational goals; causes change.

Show Tool Tip

Entry 5-7

Mid 9-11

Journey 12-13

Senior 14-15

Interpersonal Skills

Treats others with courtesy, sensitivity, and respect. Considers and responds appropriately to the needs and feelings of different people in different situations.

Show Tool Tip

Entry 5-7

Mid 9-11

Journey 12-13

Senior 14-15

Oral Communication

Expresses information (for example, ideas or facts) to individuals or groups effectively, taking into account the audience and nature of the information (for example, technical, sensitive, controversial); makes clear and convincing oral presentations; listens to others, attends to nonverbal cues, and responds appropriately.

Show Tool Tip

Entry 5-7

Mid 9-11

Journey 12-13

Senior 14-15

Organizational Awareness

Knows the organization's mission and functions, and how its social, political, and technological systems work and operates effectively within them; this includes the programs, policies, procedures, rules, and regulations of the organization.

Show Tool Tip

Entry 5-7

Mid 9-11

Journey 12-13

Senior 14-15

Problem Solving

Identifies problems; determines accuracy and relevance of information; uses sound judgment to generate and evaluate alternatives, and to make recommendations.

Show Tool Tip

Entry 5-7

Mid 9-11

Journey 12-13

Senior 14-15

Project Management

Knowledge of the principles, methods, or tools for developing, scheduling, coordinating, and managing projects and resources, including monitoring and inspecting costs, work, and contractor performance.

Show Tool Tip

Entry 5-7

Mid 9-11

Journey 12-13

Senior 14-15

Reasoning

Identifies rules, principles, or relationships that explain facts, data, or other information; analyzes information and makes correct inferences or draws accurate conclusions.

Show Tool Tip

Entry 5-7

Mid 9-11

Journey 12-13

Senior 14-15

Teaching Others

Helps others learn through formal or informal methods; identifies training needs; provides constructive feedback; coaches others on how to perform tasks; acts as a mentor.

Show Tool Tip

Entry 5-7

Mid 9-11

Journey 12-13

Senior 14-15

Teamwork

Encourages and facilitates cooperation, pride, trust, and group identity; fosters commitment and team spirit; works with others to achieve goals.

Show Tool Tip

Entry 5-7

Mid 9-11

Journey 12-13

Senior 14-15

Technical Competence

Uses knowledge that is acquired through formal training or extensive on-the-job experience to perform one's job; works with, understands, and evaluates technical information related to the job; advises others on technical issues.

Show Tool Tip

Entry 5-7

Mid 9-11

Journey 12-13

Senior 14-15

Writing

Recognizes or uses correct English grammar, punctuation, and spelling; communicates information (for example, facts, ideas, or messages) in a succinct and organized manner; produces written information, which may include technical material, that is appropriate for the intended audience.

Show Tool Tip

Entry 5-7

Mid 9-11

Journey 12-13

Senior 14-15
Common Pathways
Candidates who made this career change most commonly held these occupations...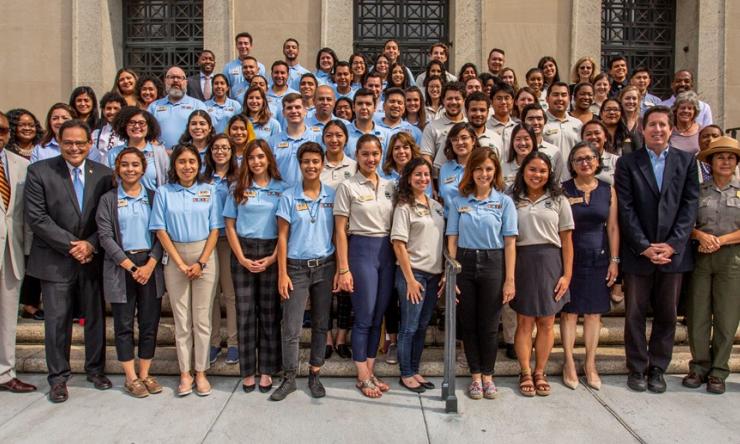 Social Science Aid And Technician
Career Information Coming Soon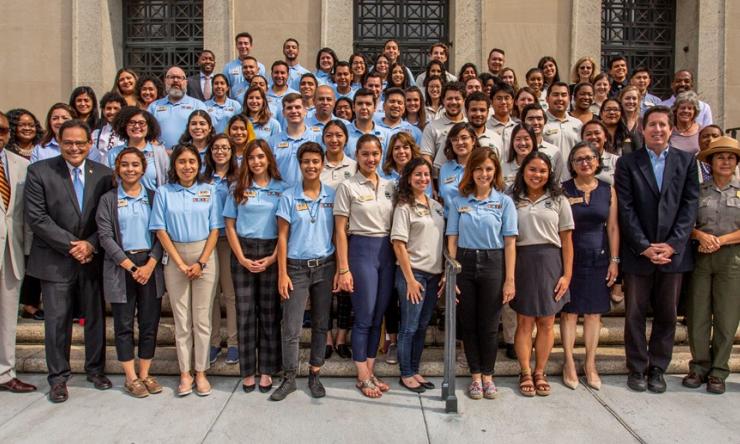 Exhibits Specialist
Career Information Coming Soon
0962 - Contact Representative 2.9%
0190 - General Anthropology 2.9%
1001 - General Arts And Information 2.9%
0101 - Social Science 2.9%
Where We Are
DOI employs people at more than 2,400 locations across the United States and territories. Use the Position Locator tool to see where current DOI employees work. To check for job opportunities, scroll down and click "See jobs on USAjobs.gov."