Position Overview
DOI relies on dedicated Custodial Workers to keep sites and facilities looking their best and ready to serve the public every day.  From cleaning floors to changing light bulbs and removing trash, these hard-working employees make sure that DOI buildings are neat, clean, free from clutter and comfortable.
This position is represented at the following bureaus
---
Candidate Description
The ideal candidate is dependable, detail-oriented, and can follow instructions and take pride in keeping facilities clean.
Work Environment
Most work is performed in indoor areas but involves moderate physical effort and some exposure to dirt, dust and chemicals.
Career Level Requirements
Responsibilities by Level
Entry:

Emptying trash receptacles
Mopping and sweeping floors

Mid:

Cleaning visitor centers, office areas, corridors and restrooms
Dusting furniture and polishing metal fixtures
Keeping restrooms clean and well stocked with supplies

Journey:

Polishing floors and shampooing rugs with power buffers and carpet cleaners
Using ladders or scaffolds to change light bulbs or clean windows
Performing minor maintenance tasks on powered cleaning equipment
Stocking and moving supplies
Click to read more
Attention to Detail

Is thorough when performing work and conscientious about attending to detail.

Show Tool Tip

Entry 1-2

Mid 3-4

Journey 5-6

Physical Strength and Agility

Ability to bend, lift, climb, stand, and walk for long periods of time; ability to perform moderately heavy laboring work.

Show Tool Tip

Entry 1-2

Mid 3-4

Journey 5-6

Self-Management

Sets well-defined and realistic personal goals; displays a high level of initiative, effort, and commitment towards completing assignments in a timely manner; works with minimal supervision; is motivated to achieve; demonstrates responsible behavior.

Show Tool Tip

Entry 1-2

Mid 3-4

Journey 5-6

Stamina

Exerts oneself physically over long periods of time without tiring (which may include performing repetitive tasks such as data entry or coding).

Show Tool Tip

Entry 1-2

Mid 3-4

Journey 5-6

Teaching Others

Helps others learn through formal or informal methods; identifies training needs; provides constructive feedback; coaches others on how to perform tasks; acts as a mentor.

Show Tool Tip

Entry 1-2

Mid 3-4

Journey 5-6

Teamwork

Encourages and facilitates cooperation, pride, trust, and group identity; fosters commitment and team spirit; works with others to achieve goals.

Show Tool Tip

Entry 1-2

Mid 3-4

Journey 5-6
Common Pathways
Candidates who made this career change most commonly held these occupations...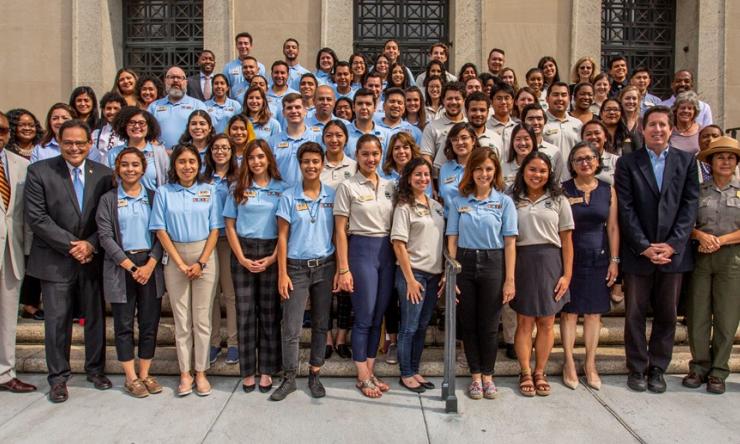 Food Service Working
Career Information Coming Soon
Where We Are
DOI employs people at more than 2,400 locations across the United States and territories. Use the Position Locator tool to see where current DOI employees work. To check for job opportunities, scroll down and click "See jobs on USAjobs.gov."