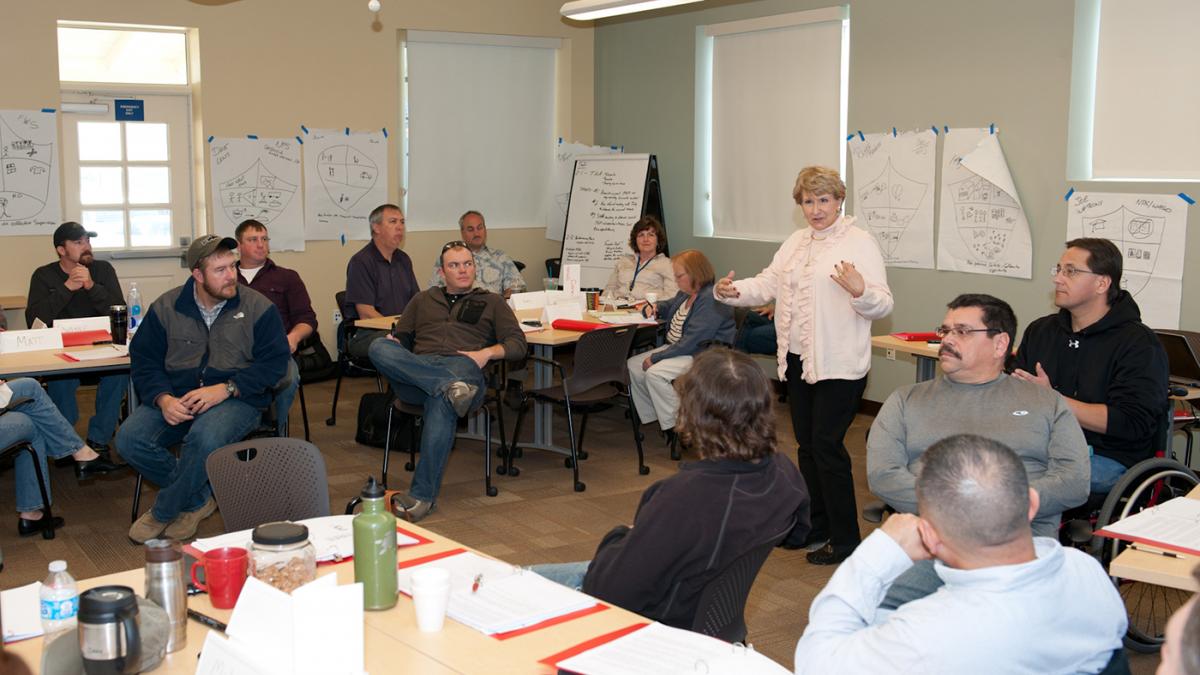 Education and Training Technician
Position Overview
Education and Training Technicians work in many settings and with a variety of audiences, but all share an interest in applying technology and instructional principles to facilitate and support engaging, interactive educational programs.
This position is represented at the following bureaus
---
Candidate Description
The ideal candidate is flexible, has excellent organizational and public speaking skills, and can work effectively with a variety of people, sometimes in changing situations that call for creativity and adaptability.
Some positions involve occasionally operating a motor vehicle and/or watercraft
Specialty Areas
Educational Aid; Educational Technician; Training Technician
Work Environment
Work is often performed in indoor settings (offices, classrooms, visitor centers) but some programs are taught in outdoor settings that involve hiking, climbing or on-the-water activities.
Minimum Education Requirements
Please see the Clerical and Administrative Support Group Qualification Standard on the OPM website.
Career Level Requirements
Responsibilities by Level
Entry:

Coordinating and communicating course delivery arrangements and providing general information to students, instructors
Processing training requests and contracts
Updating and obtaining data from Learning Management Systems and/or other databases

Mid:

Safely guiding groups in routine outdoor educational situations
Assisting with planning, scheduling and conducting workshops, seminars, conferences, and other educational programs
Gathering and summarizing course evaluations and other data
Assisting students and instructors with technology, logistics and resolving problems
Tutoring individual students or guiding small groups through learning activities

Journey:

Researching and developing curriculum-based educational programs
Coordinating and conducting training and instructional activities
Presenting educational programs for school or youth groups
Reviewing and evaluating courses, instructional methods, materials, and learning aids and recommending improvements
Preparing and analyzing reports on training and instructional activities
Click to read more
Accountability

Holds self and others accountable for measurable high-quality, timely, and cost-effective results. Determines objectives, sets priorities, and delegates work. Accepts responsibility for mistakes. Complies with established control systems and rules.

Show Tool Tip

Entry 1-4

Mid 5-6

Journey 7-11

Attention to Detail

Is thorough when performing work and conscientious about attending to detail.

Show Tool Tip

Entry 1-4

Mid 5-6

Journey 7-11

Customer Service

Works with clients and customers (that is, any individuals who use or receive the services or products that your work unit produces, including the general public, individuals who work in the agency, other agencies, or organizations outside the Government) to assess their needs, provide information or assistance, resolve their problems, or satisfy their expectations; knows about available products and services; is committed to providing quality products and services.

Show Tool Tip

Entry 1-4

Mid 5-6

Journey 7-11

Interpersonal Skills

Treats others with courtesy, sensitivity, and respect. Considers and responds appropriately to the needs and feelings of different people in different situations.

Show Tool Tip

Entry 1-4

Mid 5-6

Journey 7-11

Oral Communication

Expresses information (for example, ideas or facts) to individuals or groups effectively, taking into account the audience and nature of the information (for example, technical, sensitive, controversial); makes clear and convincing oral presentations; listens to others, attends to nonverbal cues, and responds appropriately.

Show Tool Tip

Entry 1-4

Mid 5-6

Journey 7-11

Planning and Evaluating

Organizes work, sets priorities, and determines resource requirements; determines short- or long-term goals and strategies to achieve them; coordinates with other organizations or parts of the organization to accomplish goals; monitors progress and evaluates outcomes.

Show Tool Tip

Entry 1-4

Mid 5-6

Journey 7-11

Problem Solving

Identifies problems; determines accuracy and relevance of information; uses sound judgment to generate and evaluate alternatives, and to make recommendations.

Show Tool Tip

Entry 1-4

Mid 5-6

Journey 7-11

Teaching Others

Helps others learn through formal or informal methods; identifies training needs; provides constructive feedback; coaches others on how to perform tasks; acts as a mentor.

Show Tool Tip

Entry 1-4

Mid 5-6

Journey 7-11

Technical Competence

Uses knowledge that is acquired through formal training or extensive on-the-job experience to perform one's job; works with, understands, and evaluates technical information related to the job; advises others on technical issues.

Show Tool Tip

Entry 1-4

Mid 5-6

Journey 7-11

Writing

Recognizes or uses correct English grammar, punctuation, and spelling; communicates information (for example, facts, ideas, or messages) in a succinct and organized manner; produces written information, which may include technical material, that is appropriate for the intended audience.

Show Tool Tip

Entry 1-4

Mid 5-6

Journey 7-11
Common Pathways
Candidates who made this career change most commonly held these occupations...
0326 - Office Automation Clerical And Assist 3.2%
Where We Are
DOI employs people at more than 2,400 locations across the United States and territories. Use the Position Locator tool to see where current DOI employees work. To check for job opportunities, scroll down and click "See jobs on USAjobs.gov."