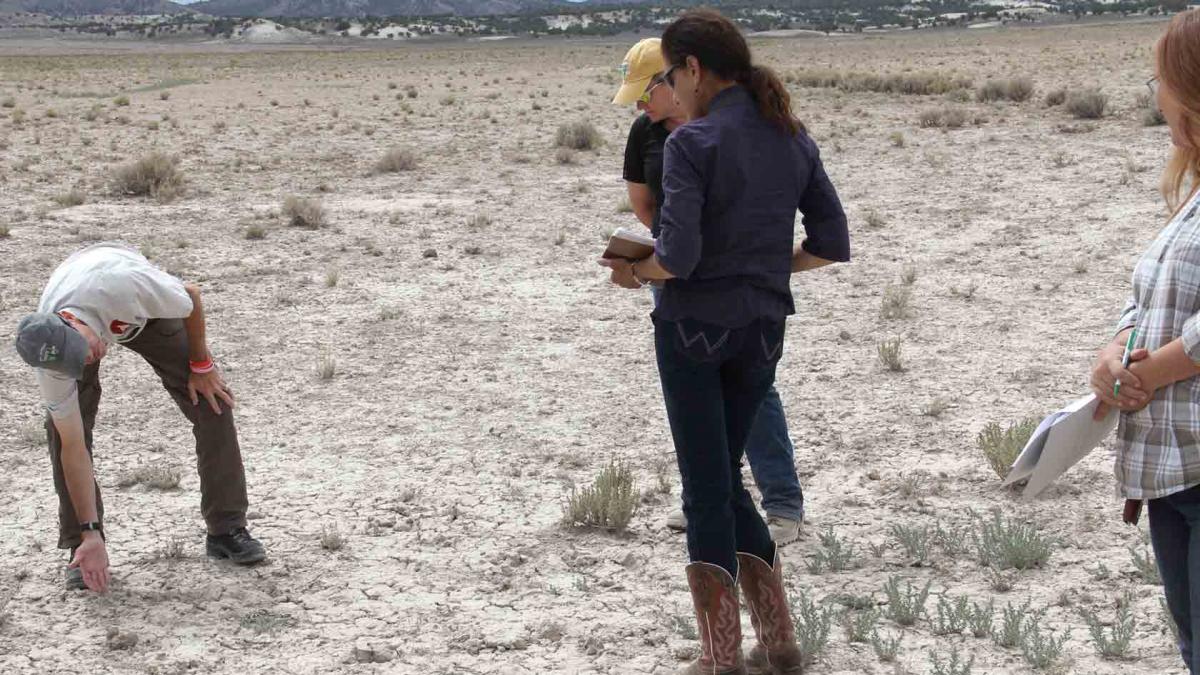 Position Overview
There are over 700 million acres of rangelands in the U.S., including desert shrub ecosystems of Wyoming, high mountain meadows of Utah and the desert floor of California. The Department of the Interior manages public rangelands for many uses including livestock grazing, recreational opportunities, healthy watersheds, and wildlife habitat. DOI is also responsible for on-the-ground fire management and aviation activities, often partnering with other agencies to conduct efficient wildland firefighting and prevention operations. Range Aids and Technicians support of these activities and more.
This position is represented at the following bureaus
---
Candidate Description
The ideal candidate has a passion for the outdoors and an interest in the scientific management, protection, and development of grasslands and other range resources. Teamwork is extremely important. Many activities, including front line fire-fighting, require being adaptable to all varieties of weather, dust and smoke, uncomfortable living conditions, and unpredictable situations, so endurance and superior physical conditioning are absolutely necessary.
Work Environment
You could spend a great deal of time in outdoor environments where temperatures can vary from above 100 degrees F to below freezing.
Minimum Education Requirements
Career Level Requirements
Responsibilities by Level
Entry:

Making vegetation counts
Loading helicopters
Staffing fire vehicles, hand crews, or aircraft

Mid:

Loading fire retardant chemicals
Maintaining facilities and equipment at airtanker bases
Compiling data; monitoring and supporting prescribed burn or fire prevention activities
Mapping invasive species
Identifying potential rangeland rehabilitation projects
Training staff

Journey:

Supervising fire management staff
Developing action items and recommendations on fire management issues
Assessing and coordinating onsite activities and reacting to changing conditions
Training staff
Click to read more
Accountability

Holds self and others accountable for measurable high-quality, timely, and cost-effective results. Determines objectives, sets priorities, and delegates work. Accepts responsibility for mistakes. Complies with established control systems and rules.

Show Tool Tip

Entry 3-5

Mid 6-7

Journey 8-10

Decision Making

Makes sound, well-informed, and objective decisions; perceives the impact and implications of decisions; commits to action, even in uncertain situations, to accomplish organizational goals; causes change.

Show Tool Tip

Entry 3-5

Mid 6-7

Journey 8-10

Oral Communication

Expresses information (for example, ideas or facts) to individuals or groups effectively, taking into account the audience and nature of the information (for example, technical, sensitive, controversial); makes clear and convincing oral presentations; listens to others, attends to nonverbal cues, and responds appropriately.

Show Tool Tip

Entry 3-5

Mid 6-7

Journey 8-10

Physical Strength and Agility

Ability to bend, lift, climb, stand, and walk for long periods of time; ability to perform moderately heavy laboring work.

Show Tool Tip

Entry 3-5

Mid 6-7

Journey 8-10

Problem Solving

Identifies problems; determines accuracy and relevance of information; uses sound judgment to generate and evaluate alternatives, and to make recommendations.

Show Tool Tip

Entry 3-5

Mid 6-7

Journey 8-10

Resilience

Deals effectively with pressure; remains optimistic and persistent, even under adversity. Recovers quickly from setbacks.

Show Tool Tip

Entry 3-5

Mid 6-7

Journey 8-10

Stamina

Exerts oneself physically over long periods of time without tiring (which may include performing repetitive tasks such as data entry or coding).

Show Tool Tip

Entry 3-5

Mid 6-7

Journey 8-10

Teamwork

Encourages and facilitates cooperation, pride, trust, and group identity; fosters commitment and team spirit; works with others to achieve goals.

Show Tool Tip

Entry 3-5

Mid 6-7

Journey 8-10

Technical Competence

Uses knowledge that is acquired through formal training or extensive on-the-job experience to perform one's job; works with, understands, and evaluates technical information related to the job; advises others on technical issues.

Show Tool Tip

Entry 3-5

Mid 6-7

Journey 8-10

Writing

Recognizes or uses correct English grammar, punctuation, and spelling; communicates information (for example, facts, ideas, or messages) in a succinct and organized manner; produces written information, which may include technical material, that is appropriate for the intended audience.

Show Tool Tip

Entry 3-5

Mid 6-7

Journey 8-10
Common Pathways
Candidates who made this career change most commonly held these occupations...
5001 - Misc Plant And Animal Work 2.6%
Less Common Pathways (<2%)
0081 - Fire Protection And Prevention
0458 - Soil Conservation Techncian
0503 - Financial Clerical And Assistance
1105 - Purchasing
5048 - Animal Caretaking
Where We Are
DOI employs people at more than 2,400 locations across the United States and territories. Use the Position Locator tool to see where current DOI employees work. To check for job opportunities, scroll down and click "See jobs on USAjobs.gov."